Mahira Khan bags International award for Best Actress
LAHORE – Top Pakistani actress and model Mahira Khan has won the award for best actress at this year's Indus Valley International Film Festival.
Mahira was given the award for her performance in the film 'Ho Mann Jahaan', which also won an award at the festival.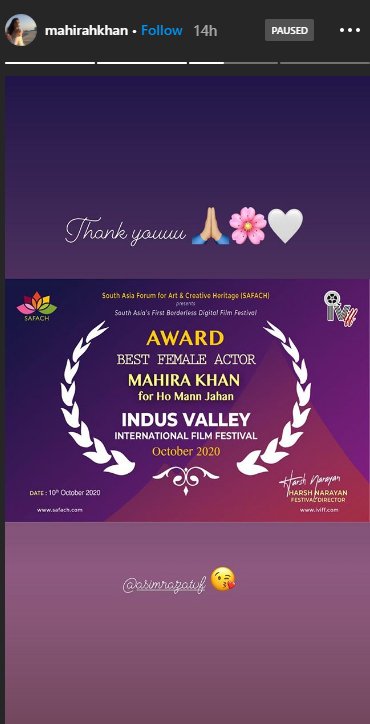 The first Indus Valley International Film Festival was organized by the South Asian Forum for Art and Creative Heritage (SAFACH). It is the first digital film festival of its kind to feature film screenings, workshops, master classes and musical concerts.
Four films are representing Pakistan at the film festival, including filmmaker Jami's 'Moor', Adnan Sarwar's 'Motorcycle Girl', Shahid Nadeem's 'Pakistan's best kept secrets' and new filmmaker Iqran Rasheed's film 'Aadat' is included.
Share to TwitterShare to MoreShare to LinkedInShare to WhatsApp