President Alvi visits set of Turkish historical series Kurulus Osman
LAHORE (Web Desk) – President Dr Arif Alvi, who is currently in Turkey on a three-day visit, his wife visited the sets of the hit series Kurulus Osman along with the producer of the show Mehmet Bozdag.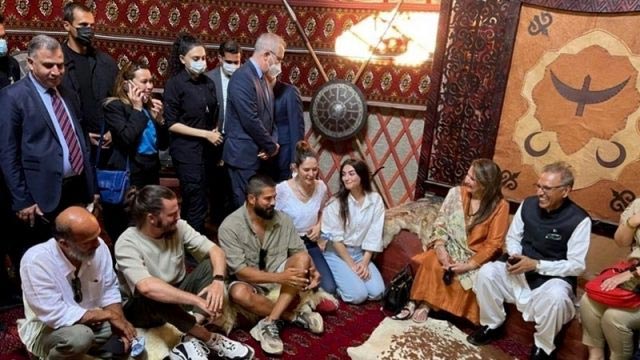 Photos and videos of President Arif Alvi visiting the sets of Turkish historical series Kurulus Osman with his wife are doing the rounds on social media.
Kurulus: Osman is the sequel to the popular series Dirilis: Ertugrul. The photos show the president and his wife having a chat with the cast and taking photographs in tribal clothes and jewellery shown in the series.
President Alvi was on a three-day visit to Turkey.
He along with his delegation also met with Mehmet Bozdag, the producer of Ertugrul and Kurulus Osman.
Dirilis: Ertugrul, comprising 179 episodes, was dubbed in Urdu and aired on PTV last year daily at 9:10pm on the instructions of Prime Minister Imran Khan. The series is based on Ertugrul, father of Osman I, who founded the Ottoman Empire. It instantly became a massive hit in Pakistan, crossing millions of views on YouTube.
Kurulus started airing in Pakistan in Ramazan this year. The new episodes were announced by Senator Faisal Javed.