Africa left largely unvaccinated as COVAX effort falls short of target
Ten percent of the world's population should have been fully vaccinated by today, according to a World Health Organization target. But 70 percent of African nations missed it.
Despite international promises to donate vaccines to poorer nations, the United Nations-backed COVAX effort has delivered only 72 million of the 300 million doses pledged to African nations. At least 8.2 million cases of COVID-19 have been diagnosed across Africa to date.
In an address marking the missed target date, WHO Africa's vaccination coordinator Richard Mihigo noted that 15 nations across Africa had achieved the 10 percent goal.
But the countries that have only vaccinated 2 percent of their populations far outweigh the successful group.
"Seventy percent of African countries have missed this important milestone to protect their most vulnerable, with half of the 52 countries … in Africa having inoculated less than 2 percent of their populations," Mihigo explained.
He urged richer nations to fulfil their promises.
"We need pledges of doses by wealthier countries to materialize now," he told Thursday's briefing.
The WHO's regional director for Africa Matshidiso Moeti added that improvements to the COVAX system were needed to maximize vaccinations.
"Actions speak far louder than words and African countries need clear delivery dates so they can plan properly. We also need strong structures set up to ensure that all promises made are promises kept," shesaid this week.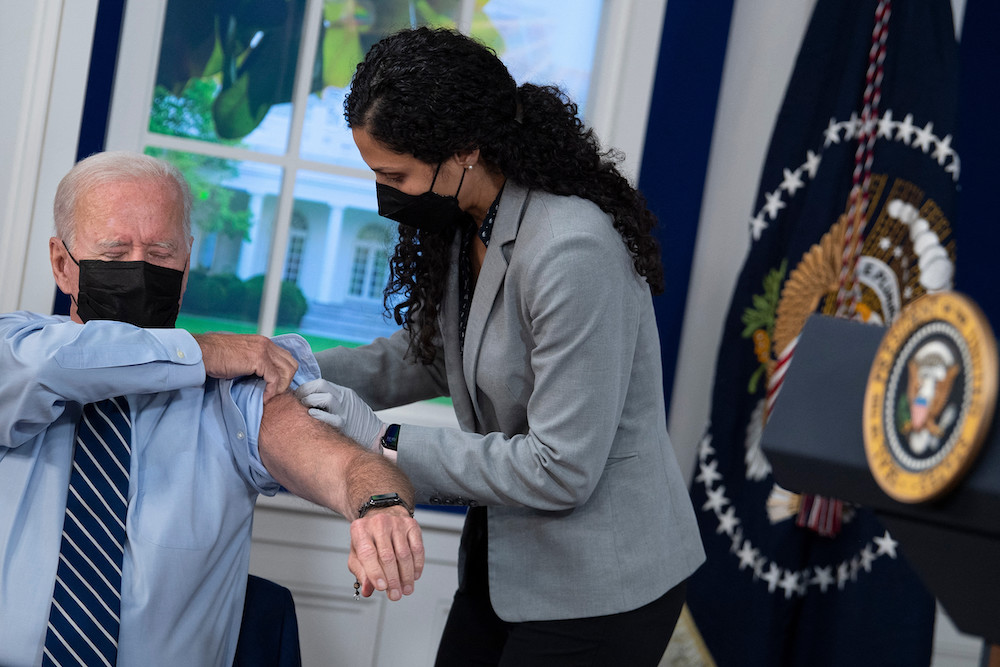 U.S. President Joe Biden received a third dose of the Pfizer-BioNTech vaccine. /Brendan Smialowski/AFP
The vaccination target was missed in the same week that U.S. President Joe Biden received a third "booster" dose of vaccine and urged others to do the same. The UK has also given the green light to booster jabs and the EU's top medical body is set to make its decision on additional doses next week.
"The inequity is deeply disturbing. Just 2 percent of the over 5 billion doses given globally have been administered in Africa," Moeti said earlier in September.
Africa did hit a milestone this week, but a grim one. The total number of known COVID-19 infections across the continent grew to more than 8 million since the start of the pandemic.