'Not art, not culture': Hundreds protest in Madrid against bullfighting
Hundreds gathered outside Las Ventas bullring in Madrid on Saturday for the "Mission abolition" rally to protest against bullfighting in Spain.
The protest, organized animal rights political party PACMA, moved through the streets of the Spanish capital with a crowd waving green handkerchiefs and chanting slogans including "Torture is not art nor culture" and "Stop torture, this is not culture."
Bullfighting is an emblematic tradition for Spain, but one that has widely lost consensus among the public. An Electomania poll from 2020 found that only 18.6 percent of respondents wanted to keep the tradition.  
However, although 46.7 percent supported legally banning bullfighting, a significant 34.7 percent said that while they didn't support bullfighting, they wouldn't approve of banning it either.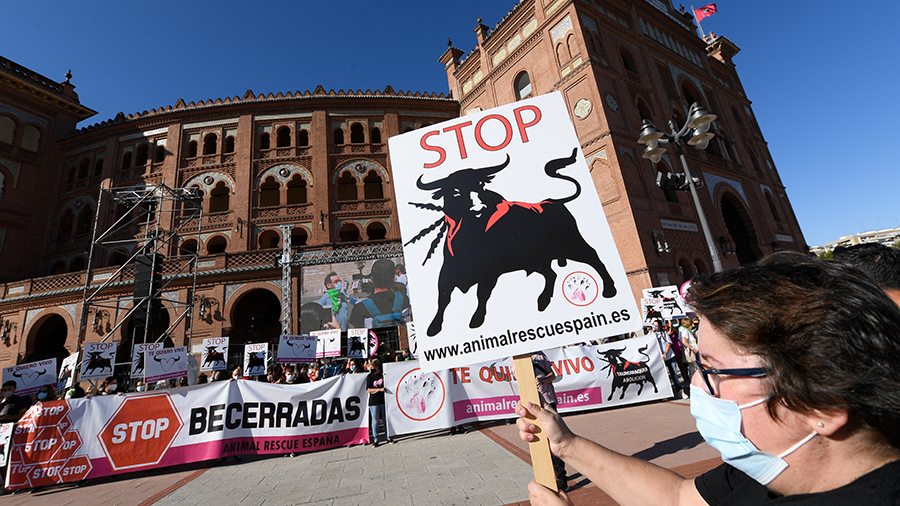 People protest against bullfighting outside Madrid's Las Ventas bullring. /Oscar Del Pozo/AFP
The debate around bullfighting in Spain has been a very controversial one for at least two decades.
In 2010 Catalonia's government attempted to ban bullfighting in the region, but the decision was overturned by the Spanish government in 2016, when Spain's constitutional court ruled that bullfighting was part of Spain's cultural heritage and should be protected as such.
In 2020, the Spanish bullfighting lobby applied for bullfighting to be recognized by UNESCO as a "cultural heritage in urgent need of protection," but UNESCO rejected the application.
Animal rights activists rejoiced in that decision.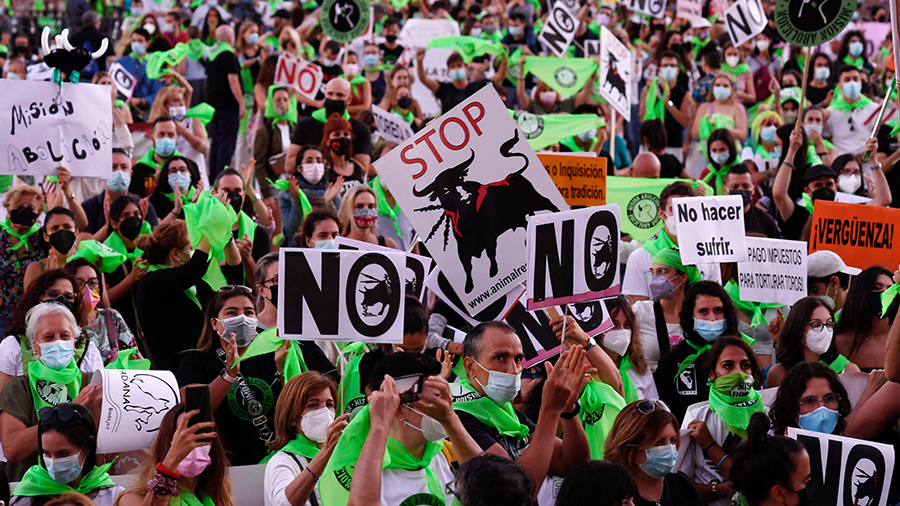 Demonstrators at the "Mission abolition" protests. /Oscar Del Pozo/AFP
"It's a real aberration, and I find it incredible that in the 21st century and in the year we are in, that all this continues to be promoted and with public money, when it is fully known that there is a higher percentage of people against bullfighting than for bullfighting nowadays," protester Natalia Rodríguez told AFP reporters on Saturday.
"Culture has many good things, all of them, but of course bullfighting, killing, for me is not art. It's killing, it's murder, it's torture, and that's not art in any way," said protester Olga Feito.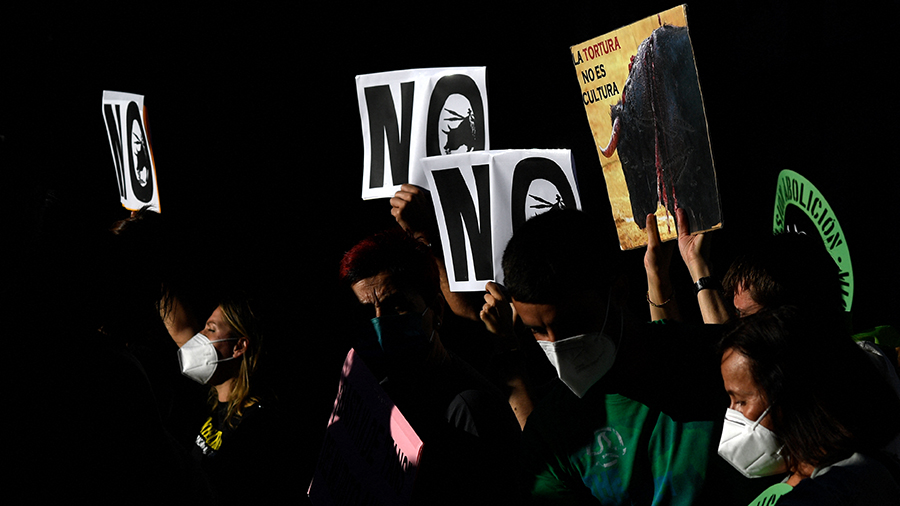 People hold placards calling for the abolition of bullfighting in Spain. /Oscar Del Pozo/AFP
Regulations around animal rights in Spain also present loopholes.
"There is no national framework law that regulates the protection and welfare of animals, but in all the autonomous regions, in all the local rules that regulate animal welfare and animal rights, bullfighting festivities are excluded," explained Cristina García, a lawyer specializing in animal law and member of PACMA.
"In other words, the sensitivity of animals and their capacity to suffer is recognized, but at the same time this exclusion is made. This is an absolute contradiction, it makes no sense at all."
Protesters called for the abolition of a practice they called "a bloody activity that denigrates the image of our country."
Source(s): AFP