Missing girls Dua Zehra and Nimrah traced, both got married
KARACHI (PEN) – Dua Zehra and Nimrah two girls who were abducted from Karachi were traced from Lahore on Monday.
According to the details, both girls got married. Dua married a person named Zaheer in Lahore while Nimrah married in DG Khan.
Missing Dua Zehra from Karachi has been traced from Lahore ten days later and Karachi police have also been informed in this regard, while the girl is likely to be handed over to her parents soon.
The police stated that Dua Zehra got married in Lahore and her marriage certificate has been obtained by Dunya News.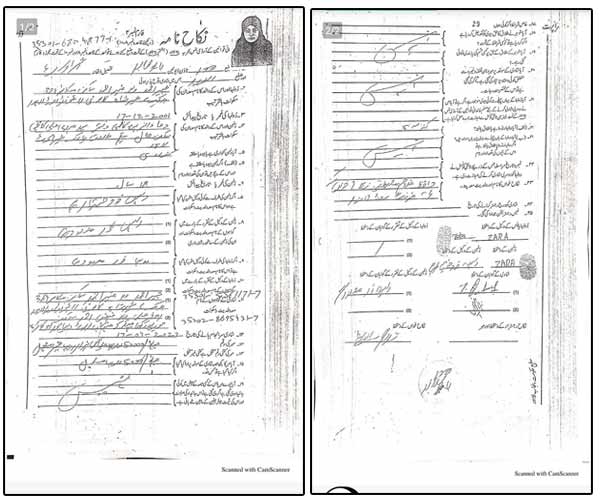 Investigating Authorities privy to the development said that, Dua got married on April 17 in Lahore and in marriage certificate, her age has been written as 18 years and Rs 50,000 as dowry has been written.
Provincial Minister Shehla Raza reached Dua Zahra s house and while talking to the media said that our prayer is that the girl will be recovered soon. She has seen Dua's B-form and dua is 13 to 14 years old, Shehla added.
Sindh police will not announce until the video clip of the girl arrives, Shehla added.
Shehla Raza further said that the marriage of an 18-year-old girl is illegal according to law and the issue of marriage will also be looked into and police will be stationed outside every house.
Missing girl Nimrah Kazmi from Saudabad also got married
On the other hand, the missing Nimrah Kazmi  from the Saudabad area of Karachi also got married. According to investigators, the 14-year-old student got married in Dera Ghazi Khan.
Sources said Nimrah is currently in Dera Ghazi Khan and shw was traced with the help of his mobile phone CDR and Shah Rukh, a resident of Dera Ghazi Khan sent money to Nimrah from his mobile app two months ago. He had earlier come to Karachi to meet Nimrah and Nimrah was married to Najib Shah Rukh.