Pakistani actor selected to perform Sushant Singh Rajput in biopic
LAHORE  – Pakistani actor Hasan Khan has been selected to perform role of Bollywood artist Sushant Singh Rajput, who has recently committed suicide due to depression, in a biopic.
According to details, an Amazon web series is being made to highlight the struggle and determination of Sushant Singh Rajput for which, Pakistani actor Hasan Khan has been finalized.
Hasan Khan also took to social-networking platform and broke the news, saying "Alhamdulillah got a project which is really close to my heart, playing @sushantsinghrajput's character for @primevideoin."
---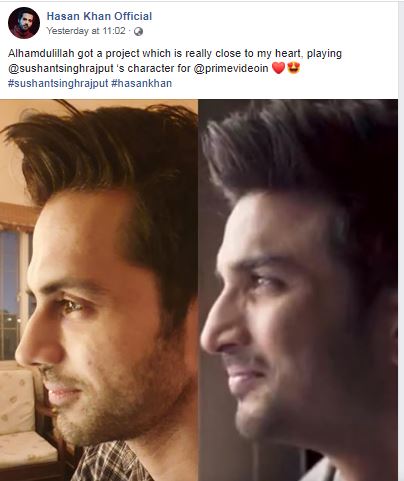 ---
It is to be noted that Sushant hung himself in his house on June 14, however, no suicide note was found at the scene.
Following the mishap, a case was lodged against eight Bollywood personalities including Karan Johar, Sanjay Leela Bhansali, Salman Khan and Ekta Kapoor under Sections 306, 109, 504 and 506 of IPC in a court in Muzaffarpur, Bihar.
Advocate Sudhir Kumar Ojha alleged that the 34-year-old actor was removed from around seven films and some of his movies were also not released.
Such a situation was created which forced Sushant Singh to take this drastic step, he added.